Madrone Avenue Bridge
The Madrone Avenue Bridge over San Anselmo Creek was built in 1930. The existing single span bridge carries two narrow lanes of traffic and is supported by concrete abutments at each end of the bridge. The existing sidewalks on the bridge are narrow and do not comply with Americans with Disabilities Act (ADA) requirements. Madrone Avenue is a local collector roadway providing connectivity for neighborhood residents to Sir Francis Drake Boulevard and Center Boulevard, both primary thoroughfares providing access into downtown San Anselmo and the greater North Bay area.
EXISTING BRIDGE CONDITIONS
Caltrans has appraised the bridge as Functionally Obsolete. Additionally, the bridge's narrow width makes the bridge eligible for replacement under the Federal Highway Administration's Highway Bridge Program (HBP). Additional information about the HBP can be found at this link. The bridge is also a contributing factor to flooding in the area and has been identified as a priority for removal as part of the Ross Valley Flood Control Program for 100 Year Flood Protection.
THE PROJECT
Throughout all phases of the project, measures will be implemented to minimize impacts to local residents and address to the resources of San Anselmo Creek.
Bridge replacement activities will require the closure of Madrone Avenue within the immediate vicinity of the project site. The Nokomis Avenue bridge, located just north of Madrone Avenue, will also be replaced at the same time under the same program and that road will also be closed. However, residents are expected to continue using Madrone Avenue, north and south of the bridge sites, to access local and regional roadways.
Frequently Asked Questions about the project can be found here.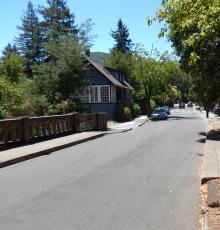 Madrone Avenue Bridge is currently a single span bridge that carries two narrow lanes of traffic.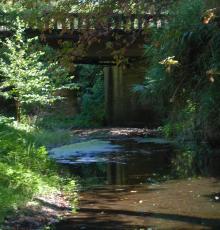 Construction activities within San Anselmo Creek must comply with a variety of measures and regulatory agency requirements designed to protect the creek corridor's habitat and aesthetic features.
related content